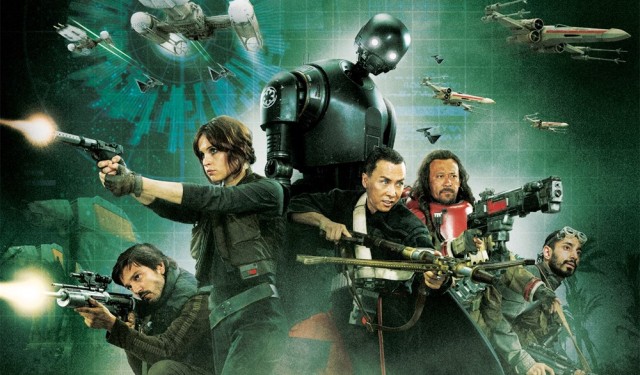 Exkluzív infók érkeztek az év végén bemutatandó Csillagok háborúja mellékfilmről. Izgi! Részletek és képek a tovább mögött!
Felettébb érdekes és sokatmondó infómorzsákat hozott nyilvánosságra a hamarosan elérhető Rouge One: A Star Wras Story: The Official Visual Story Guide nevű kiadvány, ami már az Edelwise kínálatában szerepel (köszönet a Jedi News-nak és  a /Film-nek).
Itt vannak hát a részletek a filmről.
Elsőként vegyük sorjába a Halálcsillag terveinek ellopására vállalkozó karaktereket:
- Felicity Jones lesz Jyn Erso, egy tehetséges katona és harcos.
- Diego Luna játsza Cassian Andor kapitányt, a Lázadó Szövetségének hivatalnoka
- Jiang Wen lesz Blaze, egy szabadúszó bérgyilkos
- Alan Tudyk egy CGI karaktert alakít, ő lesz K-250-es, egy droid, aki a lázadókkal van
- Riz Ahmed pedig Bodhit alakítja, ő lesz egy lázadó katona
- Pao, egy űrlény, akit csak úgy hívnak "veszedelmes harcos"
- Donnie Yen lesz Chirrut, egy spirituális harcos
- Bistan pedig egy másik űrlény, aki "veszedelmes harcos"
Továbbá részletek derültek ki a Ben Mendelssohn által alakított Director Krennic, akiről azt írják "A Birodalom katonai vezetője, aki megvédi a birodalmat a lázadókkal szemben, akik el akarják lopni a Halálcsillag terveit."
Az elérhető oldalakon látható két új űrhajó is, az egyik a Tie Strike, a másik pedig a Rebel Starfighter (Lázadó csillagharcos?) azaz U-Wing.
Mindezt galériába rendezve megtalálhatjátok. Böngészésre fel!
A Gareth Edwards által rendezett Zsivány Egyes: Egy Star Wars történet című filmet december 16-én mutatják be a mozik.
-br-