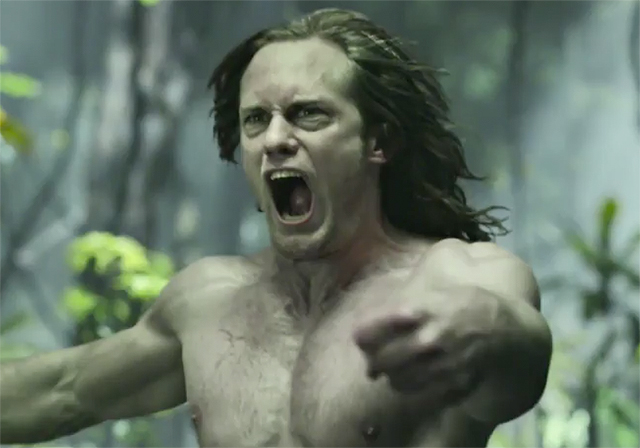 A legenda visszatért és aztabetyárját, mit mutat. Tisztára brutál filmnek ígérkezik. Jött egy új trailer! Ez van a tovább mögött!
Amikor már az ember azt hinné, hogy nem, a majomember legendájáról már minden bőrt lehúztak. Hehe, jó az, aki rosszra gondol... Akkor jön egy ilyen. Úgy odavág a Tarzan legendája című film IMAX-trailer, hogy csak úgy reccsen!
Légy üdvözölve a dzsungelben, vannak majmaink és Jane is itt van! A Warner Bros. korábban már hozott egy új posztert a Tarzan legendája c. filmhez, amit David Yates rendezett és Edgar Rice Burrough hőséről szól, akit Alexander Skarsgård alakít. Most jött egy trailer, ezt találod alant.
De ott lesz Margot Robbie, Samuel L. Jackson, Christoph Waltz és Djimon Hounsou is. A bemutatóra június 30-án kerül sor.
A film azzal kezdődik, hogy a férfi, aki egykor Tarzanként volt ismert, hátrahagyta Afrika őserdejét és visszatér a viktoriánus kori Angliába mint John Clayton III illetve mint Lord Greystoke. Vele tart felesége Jane is. Azonban nem sokáig élvezheti a civilizáció adta kényelmet, ugyanis szolgálatra hívják Kongóba, ahol a Parlament nagykövetének védelmét kellene ellátnia. Azonban rájön, hogy a kapzsi és hataloméhes belga kapitány, Leon Rom több kincset is kíván kibányászni a területről. Nem átall gyilkolni is céljai eléréséhez. Itt jön elő Tarzanból az a vadember, aki mindig is volt és barátaival, a majmokkal és gorillákkal felveszi a harcot a gonosz fehér ember ellen.
Tarzan először Edgar Rice Burrough 1912-es, Tarzan, a majomember című regényében tűnt fel. A dzsungelhős további huszonhárom kötetben bukkant fel. A múlt századtól kezdve szépen lassan Tarzan szinte valamennyi médiumban megvetette a lábát, számos filmfeldolgozást ért meg.
Alexander Skarsgård transforms into the King of the Jungle in our exclusive sneak peek at @LegendofTarzan.https://t.co/d8yKDSxYq1

— IMAX (@IMAX) 2016. június 6.