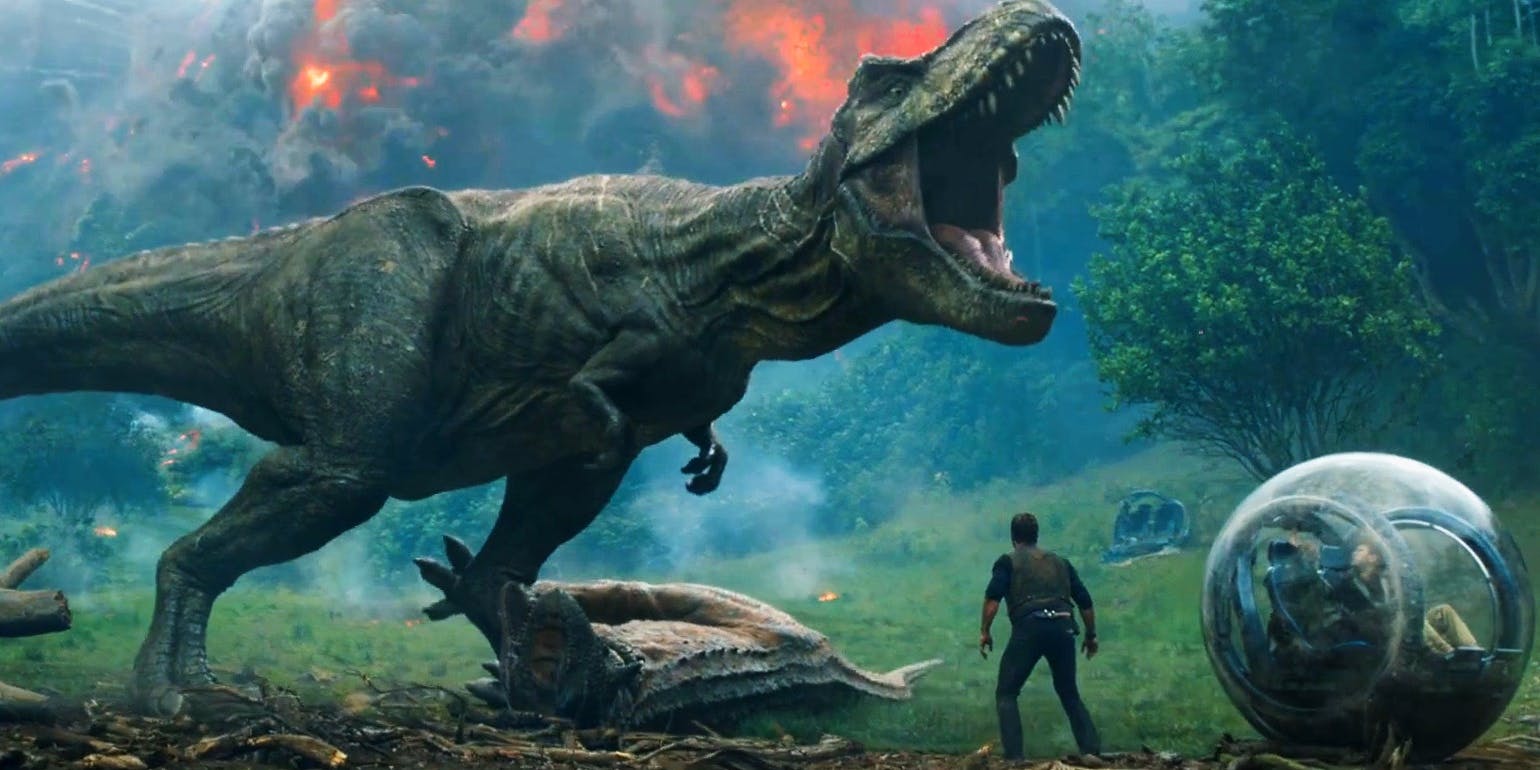 Megkezdődött a forgatás, jöttek részletek. Megvan már a cím is. Új dínók, szereplők és érdekesen csavaros történet.
Forog a kamera a Colin Trevorrow által írt és rendezett Jurassic World harmadik epizódja kapcsán, amely a trilógia zárórész lesz.
A filmművészet legnagyobb franchise-ának forgatásának első napján maga a rendező felfedte, hogy a Steven Spielberg által életre keltett dinófilmsorozat alcíme Dominion, ami az értelmezés szerint:
"az ember kísérlete uralkodni a természet felett".
Hogy ezúttal ki is lesz az uralkodó faj a bolygón, és végérvényesen visszatérnek-e a dinoszauruszok, vagy pedig ismét a teljes kihalás vár rájuk, az még kérdéses.
Ahogyan a történet egyetlen részletéről sincs információ. Nem tudni, hogy az előző részekből mit is emelnek át, ám azt bizonyosan tudni, hogy egy csomó rég nem látott szereplő is visszatér. A rendező korábban elhintette, hogy az új dinoszauruszos filmet inkább tekinti Jurassic Park 6-nak, mint Jurassic World 3-nak (meglehet, éppen a logó mutat erre). Száznapos forgatással számolnak, az előzetes infók szerint a kanadai Vancouverben illetve elméletileg Hawaii szigetén is.
Day One#JurassicWorld pic.twitter.com/UnQIUFwJ3t

— Colin Trevorrow (@colintrevorrow) February 25, 2020
Chris Pratt, Bryce Dallas Howard, Jake Johnson, Omar Sy, Daniella Pineda és Justice Smith mellé jön a Jurassic Parkból jól ismert és kedvelt Laura Dern, Sam Neill illetve Jeff Goldblum. Nyilván valami hatalmas összecsapásra kell számítani, ha a dinós nagyágyúkat kell elővenni segítségnek.
Emellett új résztvevőkkel is tarkítják a gárdát. Csatlakozott a stábhoz Emily Carmichael, aki új színt fog nyilván vinni a történetbe, hiszen korábban nem foglalkozott ezzel a dinós világgal.
Vélhetően valami gonosz szerepben tűnik fel Scott Haze (Venom), illetve még pletyka szinten felmerült, hogy a Jurassic Parkban Timet alakító Joseph Mazzello is csatlakozhat a gárdához, és maga Mazzello sejtelmeset "csicsergett", hogy ismét vissza kellene térni a melóhoz.
I think it's time to get back to work. What do you say gang?

— Joe Mazzello (@MazzelloJoe) February 23, 2020
A Jurassic World: Dominion (Véguralom?) c. filmet 2021. június 11-én mutatják be a mozik.
-br-